What to do in Polychrono 2023 – ACTIVITIES
EXCURSIONS
Organize an excursion to Hotel Odysseas!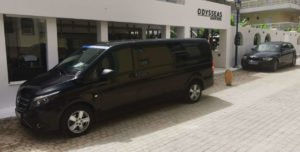 Are you a fan of excursions and want to visit many different places during your vacation? Then, it is noteworthy to mention, that you have the opportunity to organize in contact with our reception department, excursion to various locations and places. Visit Mount Athos and its imposing Holy Monasteries, the monasteries of Meteora or the tomb of Philip, the father of the glorious Alexander the Great. Also, arrange an excursion with your family or friends to the school of Aristotle, one of the most remarkable sights of world importance. Of course, an excursion to the beautiful Thessaloniki can be arranged, so that you can do your shopping in the local market, take a walk in the white tower, visit the famous archaeological museum or taste the delicious local tsourekia or the Panorama triangles!
You can find out all the procedural details from our reception staff, who are always willing to serve you!
SAILING BOAT TRIPS
PRIVATE BOAT CRUISE IN HALKIDIKI 2023!
All-day sailing trip in  Sithonia or Kassandra
"Sail me to the moon and let me play among the stars ..!"
Meet the wonderful world of sailing and sail with us in the uniquely beautiful areas of Kassandra and Sithonia!
Why choose Halkidiki
It is well known that Halkidiki is considered a destination that meets all tastes and preferences. The clear blue waters, the beautiful beaches, the settlements that exude a Greek aura, as well as the natural landscapes of memorable beauty, create an extraordinary setting for summer vacations. Of course, all these,  in combination with the favourable climate and the basically mild winds, are suitable for unique excursions or vacation with a sailing boat!
Charter Yacht Program
We will start from the port of Neos Marmaras, or from the pier of Pefkochori, or from the marina of Porto Carras. Our all-day trip will start at 11 am with the destination the Gulf of Toroneos.
Starting point
In general, whether you are in Thessaloniki or in  ​​Halkidiki, it is very easy to be at one of the starting points of our trip. If you come from areas such as Sani, Kallithea, Kriopigi, N. Fokia, N. Moudania, Paliouri, Hanioti, Fourka, Possidi, Skioni, Siviri, Agia Paraskevi and generally from areas in the first leg, then the pier of Pefkochori is really convenient as a starting point. However, if you come from areas such as Vourvourou, Ormos Panagias, Sykia, Nikiti, Agios Nikolaos and generally from an area on the second leg, the port of Neos Marmaras is convenient as a starting point.
Of course, for any questions or clarification, contact our organizers. We can help you rent a car, or you can come by road with some of our partners.
Itinerary 
Itinerary step by step:
The first stop is the island of Kelyfos, also known as "Turtle", which is part of the Toroneos Gulf. Here, we will swim and admire the magical turquoise waters and the naturally beautiful landscape that surrounds them. It is worth noting that the seabed is stony and is a great opportunity to explore it with a mask.
Then, while the appropriate breeze has risen for sailing, we will sail to the small island of Gerochristos and the famous Laimos beach. It is a remote and inaccessible beach, accessible only by sea and boat, especially known to celebrities from around the world, such as Angelina Jolie. It is basically a strip of sand surrounded by beautiful turquoise waters.
After our visit to this specific beach, the third stop will take place for food. Do you want to taste fresh fish in a tavern? In Marmara? Do you just want to eat together on the boat? There are no restrictions! The program will be adjusted according to your preferences.
After the third stop, we will continue south to Neos Marmaras and Porto Carras.
Then, we will swim on the famous beach of Halkidiki, called "Kammenos", which can be reached exclusively by sea. The crystal clear waters and the green landscape will surely enchant you!
Return to base.
Note that the route is flexible. Both your wishes and the weather conditions will be taken into account. However, Halkidiki is sunny almost all summer with mild winds and the weather will probably not cause any problems.
Live the experience with us! Have fun with your loved ones!
Private cruise ideal for:
Holidays with friends or family
Birthdays or holidays
Marriage proposal or anniversary trip
Bachelor party
Do not hesitate to contact us for the organization of what you have in mind! (candles, cake, wine, champagne).
What is included in the price:
Our boats can accommodate from 8 people and up and have:
Hot water
Toilet
Equipped kitchen with all the necessary cooking utensils
Radio CD
Security equipment
Pillows
Awning in the cockpit
A cabin for your service (to change swimsuits, to place personal items, for children to rest).
Also,
Boat taxes, captain, mooring fees
Fuel, oil, water, electricity
Drinking water, coffee or tea
What is not included:
  lunch & dinner
  sea ​​towels
Do not forget to mention
Number of people
Possible dates
Get ready for an epic and life-changing experience!