Polychrono Hotel 2023 – Facilities
SWIMMING POOL
The heated outdoor pool of Hotel Odysseas is waiting for you!
Surrounded by our beautiful and special bananas, it creates the ideal setting for your summer vacation! It has wooden sunbeds with a waterproof mattress, while in the same place is located the hotel restaurant, where you can dine or have your drink and cocktail at any time of the day!
Have fun in our pool and experience unique summer moments!
---
RECEPTION & LOBBY
Welcome to the renovated area of ​​our reception!
The staff of our hotel is ready to welcome you warmly and with their brightest smile! Our space is air-conditioned, with unique aesthetics and special decoration, which will put you in the mood for summer vacation from the very first moment! Be sure that we will serve you immediately and we will solve any question or concern you have! We will also inform you about our hotel areas, but also about the facilities that it can offer you.
Check-in can be done at the time of arrival at the hotel or without contact from wherever you are. This is because Odysseas Hotel has the checkin.express service, according to which the customer can check in from anywhere at any time of the day, without having to download the application or wait in line. All you need to do is fill out the registration form.
We take care of your safety and your best and immediate service!
We promise to make your stay as enjoyable as possible! Get ready for a magical holiday trip!
Finally, it would be an omission not to mention that Hotel Odysseas and its staff are supporters of the SOS Village. Every year, we are committed to hosting and showing our undivided love to the children of the village, providing our accommodation and services, so that they can experience unforgettable and unique holiday experiences!
Our main goal is the love, care and safety of every child who will show us his trust!
---
ELECTRIC CAR CHARGING STATION
ELECTRIC CAR BENEFITS AT HOTEL ODYSSEAS!
Speaking of electric cars, we are talking about the future. They are considered one of the most modern trends in the automotive industry and it is observed that more and more people in our country choose to purchase them. Electric cars, using electricity by charging against gasoline or other environmentally unfriendly fuels, do not have polluting environmental effects, unlike hybrid cars. Charging the car is easy and can be done immediately and quickly at any charging station.
Electric car charging stations in Halkidiki
At the Lidl Hellas store in Kassandria, Halkidiki

In the courtyard of the Halkidiki headquarters – in Polygyros

On the provincial road Paliouriou-Afytou, at Leonidas apartments

At Mount Athos Resort, in the port of Ierissos

At Kaoil gas station, at the first kilometre of Nea Moudania-Sithonia
Of course, at the Odysseas Hotel, we are proud to be actively involved in many ways to reduce environmental pollution, enabling our customers to charge their electric cars at our electric charging station. We keep pace with the needs of the time and turn to the future. So charge your car comfortably and easily in our hotel!
At the moment, our hotel produces more energy than it consumes!
For any clarification or questions, do not hesitate to contact our staff!
---
BICYCLES PARKING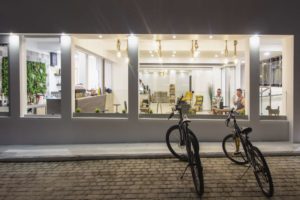 Do you want to rent a bike during your vacation or do you want to bring your bike and your children's bike? Then you do not have to worry about where to park it.
Our state-of-the-art hotel has secure bicycle parking right next to our hotel entrance.
PRIVETT GYM & FITNESS
Meet the Hotel Odysseas state-of-the-art private gym!
Do you want to continue your daily exercise during your vacation? Our hotel, offering a variety of services and treatments, gives you this opportunity with its private gym. You can start your day with exercise, before you even enjoy breakfast at the hotel, but also at any other time of the day. You can perform a variety of activities and exercises, such as gymnastics with cardio instruments, leisurely walking while watching informative news on TV or intense running on an uneven level on our fully professional treadmill. The options are many and our facilities are modern and adapted to your needs. Of course, all the necessary hygiene rules are observed, so that you can enjoy your exercise feeling confident and safe!
Get ready for an unforgettable fitness experience!
---
PRIVET CAR PARKING
For those of you who are worried about parking your car, it is worth mentioning that we have 150 meters of private car parking, without any further charge and upon availability and timely arrangement. The staff of our hotel will be at your disposal for any clarification.
---
PRIVATE HYDRO-MASSAGE & JACUZZI
Are you looking for moments of absolute calm and relaxation? Then, we have to inform you that the hotel Odysseas has spa services and a private hot tub. Enjoy private, relaxing moments in the unique, mosaic hydro-massage of our hotel! The hot tub is four-speed and can accommodate from 2 to 5 people. The low lighting, the mosaic dome with the stained glass paintings and the calm of the colours, create a highly magical setting that will take you to a state of absolute calm and enjoyment! So indulge in the magic of the moment with your partner, family, or friends! Our hotel also has a jacuzzi for 4 people with the main goal of your absolute rejuvenation and relaxation. Our spaces are completely safe, they have lockers for your items, showers, toilets and staff who are willing to serve you at any time.
The main concern of our hotel is to ensure your absolute well-being and relaxation! Leave it in our hands!